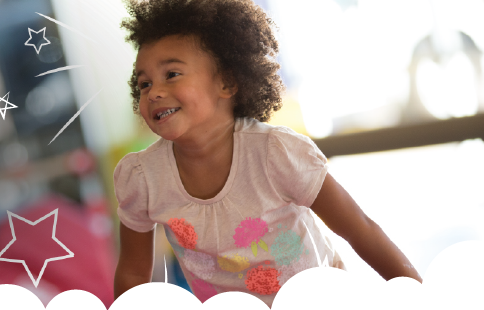 Giggle Worms, everyday, Monday - Saturday!
Giggle Worms for four year olds is the most similar programme to what we're been used to, because if it's not broken, why fix it!
We have found that keeping the Giggle Worms to just 4 year olds however has been a fantastic change for all the children involved. The difference in a child who has just turned four and one who is almost six is extensive not only physically but socially and emotionally too. Having the ability to separate these children has allowed us to really focus on the four year olds and progress their skills at an age appropriate level. This in turn as allowed us to have the five year olds in their own 'Good Friends' class which now has more of a 'grown up' feel to it.
We have more opportunities to prepare these children for the jump to Flips/ Hot Shots and the new structure there. Good Friends now involves group tumbling activities, chants rather than songs, varied and more advanced skills and fun '30 second challenges' whilst on stations. These are much closer to the activities in the Flips/ Hot Shots (6-12 years) classes and so the transition when the Good Friends turn 6 has become much easier for both the children and teachers.
Written by
Lauren, Gym Director
If you have a 4yr old ready for action, please call us now to find out class availability.